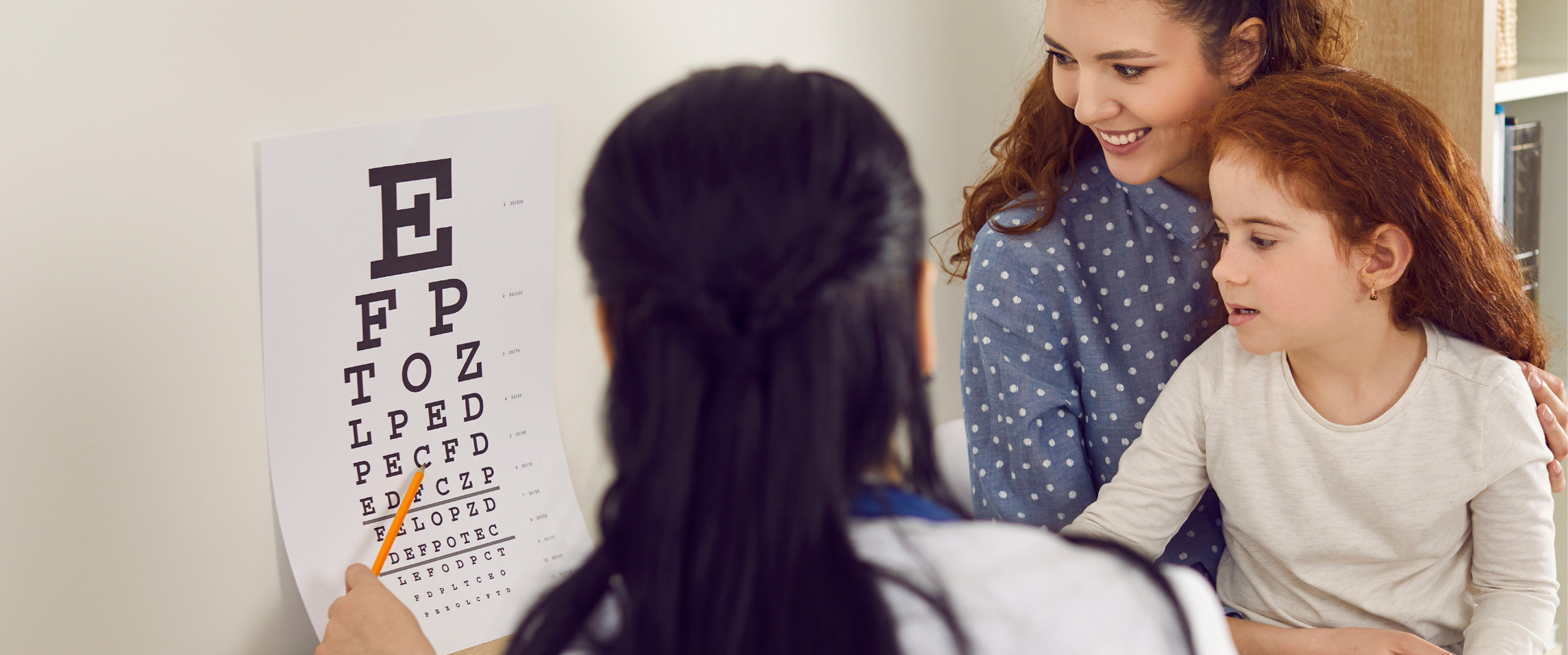 Healthy Vision: A Family Focus
A GUIDE TO VISION HEALTH AND WELLNESS FOR YOUR FAMILY
Maintaining good eye health is crucial, especially as we age. Eye diseases and conditions can impact our vision and overall quality of life. Good vision is also crucial for children's ability to learn effectively in the classroom. As the back-to-school season approaches, it's an opportune time to prioritize children's vision health and set them up for success. This article aims to provide valuable information and resources to improve family health and wellness, with a focus on vision care. We will explore common eye conditions, tips for eye care, the importance of regular eye exams, and available programs for free or low-cost eye care.
10 TIPS TO PROTECT YOUR VISION
Eat right to protect your sight: Consume a balanced diet rich in fruits, vegetables (especially leafy greens), and omega-3 fatty acids found in fish.
Get moving: Regular exercise helps maintain a healthy body weight, reducing the risk of conditions that can affect vision.
Speak up if your vision changes: Report any blurry vision or changes to your eyesight to a healthcare professional.
Wear your glasses: Keep your glasses clean and properly stored for optimal vision correction.
Keep the germs away: Prioritize hand hygiene before handling contact lenses or touching your eyes.
Gear up: Utilize protective eyewear during sports or activities that may pose a risk to your eyes.
Wear your shades: Choose sunglasses that provide adequate UVA and UVB protection to shield your eyes from harmful sun rays.
Give your eyes a break: Follow the 20-20-20 rule to rest your eyes when using digital screens for extended periods.
Say no to smoking: Smoking increases the risk of various eye conditions, including macular degeneration and cataracts.
Talk about it: Discuss your family's eye health history to identify potential genetic risks and inform your eye doctor.
IMPORTANCE OF REGULAR EYE EXAMS
Regular comprehensive dilated eye exams play a vital role in detecting eye diseases early, as many conditions often show no symptoms. By undergoing these exams, individuals can receive timely treatment and better manage eye diseases. Moreover, eye exams provide a holistic evaluation of overall eye health, identifying potential risk factors and underlying health issues. Additionally, these exams help determine the correct prescription for glasses or contact lenses, ensuring optimal vision correction. Overall, prioritizing regular eye exams is crucial for maintaining healthy eyes and preventing vision problems.
REDUCE EYE DISEASE RISK FACTORS
To reduce the risk factors associated with eye diseases, it is important to consider two key factors. Firstly, discussing any eye diseases present in your family history with your eye doctor allows for early detection and proactive measures. Secondly, managing your overall health through a healthy lifestyle plays a crucial role. By maintaining a healthy lifestyle, including proper nutrition, regular exercise, and managing conditions like diabetes and high blood pressure, you can significantly lower the risk of eye-related issues. Taking these steps ensures the well-being of your eyes and promotes long-term eye health.
PROTECT YOUR EYES
Protecting your eyes from potential harm is crucial for maintaining good eye health. Wearing sunglasses that block both UVA and UVB radiation shields your eyes from the harmful effects of the sun. When engaging in activities that pose a risk to your eyes, such as sports or home repairs, make sure to use protective eyewear like safety glasses or goggles. To prevent eye strain and fatigue from prolonged digital device use, remember to take regular breaks and follow the 20-20-20 rule—every 20 minutes, look at something 20 feet away for 20 seconds. Proper care for contact lenses is essential to prevent eye infections, so be diligent in following hygiene practices when handling and caring for your contact lenses. By incorporating these habits into your routine, you can safeguard your eyes and maintain optimal eye health.
ACCESSING FREE OR LOW-COST EYE CARE
When it comes to accessing affordable eye care, there are several resources available to help. Explore programs like EyeCare America and Vision USA that offer free or low-cost eye exams and eyeglasses. Additionally, check with your health insurance provider to see if your plan includes coverage for vision screenings or other eye care services. It's also worth researching local organizations and services in your community that may offer assistance specifically tailored to your eye care needs. By utilizing these programs and resources, you can ensure that your vision health is well taken care of without straining your finances.
Prioritizing eye health is essential for overall well-being. By following these tips for eye care, understanding common eye conditions, scheduling regular eye exams, and exploring available resources for free or low-cost eye care, individuals and families can take proactive steps toward maintaining healthy vision. Remember, healthy vision starts with you, so make your eye health a priority today!
UNDERSTANDING COMMON EYE PROBLEMS
AGE-RELATED MACULAR DEGENERATION:
A condition that affects the macula, leading to a loss of central vision.
AMBLYOPIA (LAZY EYE):
Reduced vision in one eye due to a lack of visual stimulation during childhood.
ASTIGMATISM:
A refractive error causing blurred vision due to an irregularly shaped cornea.
CATARACTS:
Clouding of the lens, resulting in blurred or hazy vision.
COLOR BLINDNESS:
A condition where individuals have difficulty distinguishing between certain colors.
DIABETIC RETINOPATHY:
Damage to the blood vessels in the retina due to diabetes, potentially leading to vision loss.
DRY EYE:
Insufficient moisture and lubrication on the eye's surface, causing discomfort and vision problems.
FLOATERS:
Tiny specks or cobweb-like shapes that appear in your field of vision.
GLAUCOMA:
A group of eye diseases characterized by damage to the optic nerve, often associated with increased eye pressure.
PINK EYE:
Also known as conjunctivitis, an inflammation of the transparent membrane covering the eyeball.